Not Sure What To Gift The Child In Your Life?
Do you have nieces or nephews or even children of your own that your knee deep in present planning for? Are you a little anxious about hosting a holiday this year that involves children?
Do you have a shy niece that becomes anxious around a large group of people? Or perhaps a good friend seems to always leave the holiday fun early because her middle schooler is too high energy to stay long enough and not break something.
Giving Them a Leg Up in Self Awareness
Although self care is fast becoming an everyday household word, have you spent any thought on children's self care? It's true, that as children watch the adults improve their self care, they undoubtedly pick up on it, but what if we took deliberate action towards helping children develop their own self care skills?
Reach Out to The Children Around You
Last week I shared  this  post on the value of preparing a traveling self care kit for those times you cannot avoid difficult social situations that often, come up in the holidays. Today I'm sharing the value of doing the same for the child or children in your life. Whether you'll be hosting gatherings at your home that involve children,  want to gift friends that have children or for your own child, gifting a self care kit that caters to their unique needs is an invaluable gift.
Ever Been in Line With A Crying Child?
Not only does a self care kit help the child, but it also helps everyone else whom that child visits because as you may have experienced at least once in a grocery store on any given day,   an unhappy child makes for an unhappy situation for everyone
Cultivating A Sense of Self-Possession
When a child needs something and can independently get it themselves, it gives a sense of dignity, independence and sovereignty. Not to mention that children these days, face challenges my generation would of never have dreamed of, so their needs may very well be different then a generation ago.
Self care kits can help children become aware of their own needs and be proactive in getting them met in whatever environment they are in.
Take A Minute to Create This Thoughtful Gift
Before I begin let me just suggest that if the child your thinking of is not yours, to take the time to reflect on your experiences when around the child so far. Reflect on what the behavior might be revealing about the child's needs. An example would be if the child is high energy and fidgets, perhaps then some fidget toys that engage their hands may be a good choice. If the child is noise sensitive, perhaps some noise blocking headsets would be best and of course, always ask the parent who knows best.
Toiletry Bags Are Extremely Versatile and Durable
In regards to creating a travel friendly self care kit, toiletry or cosmetic bags are amazing! Because they have many compartments, are compact, many times durable and easy to clean, they make the perfect  travel friendly container. I recently made a kit for my 2 year old niece with this Allegro Basics Black Fitted Weekender Cosmetic Bag  that I found at a local Bed and Bath.
Although I'm all for color and blossoms particularly, I had to be realistic about what my niece's mother would want to carry around that matches her style, so I went with a basic black bag. To prevent it from easily getting mixed up with other black things she carries, I hot ironed her name on it and plan on adding an iron on rose  like this one from the PatchForestShop on Etsy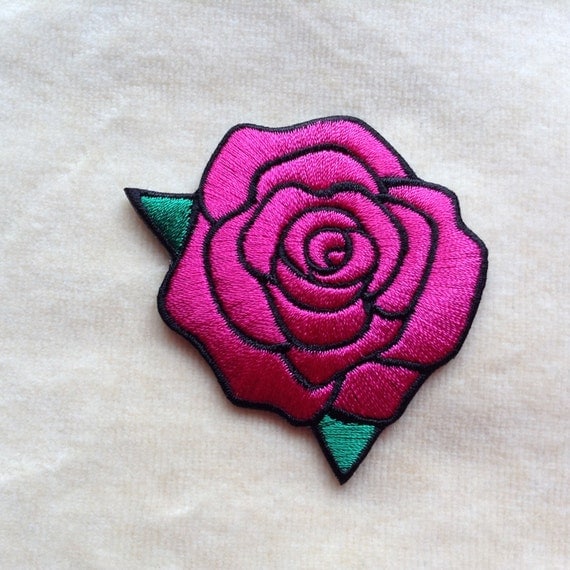 Restaurant Saving Grace Kit
Since my niece is a busy body that makes it difficult for her parents to sit through a restaurant meal, I catered to that and inserted small toys that I thought would hold her attention. I also gifted a stash of similar sized toys that my sister could tuck away at home and every now and then rotate through the bag to keep it feeling new and interesting.
Here are some pictures of the things I added to it. You can click on the pictures to read the caption descriptions.
Toddler Strategy
The only catch I explained to my sister was that, for this particular kit to work for Camila, she had to absolutely adhere to only having her play with these things when they dined out. In this way the toys were special and dining out would be a time she could look forward to playing with these out of the ordinary objects.
Your Kit
When it comes to a creating a kit for the child in your life, I recommend you consider the developmental stage their in and what they need.
2 categories I'll list here are objects that:
Disperse excess energy
Soothe and comfort
When Hyper Aroused, Encourage Deep Breathing Activities
When kids have too much energy, anything that gets them to breathe deep is a winner.
Straw and Pom Pom Game
Put a straw, some mini plastic containers (for travel friendly purposes I would suggest water bottle caps)  and some mini pom poms in a ziplock bag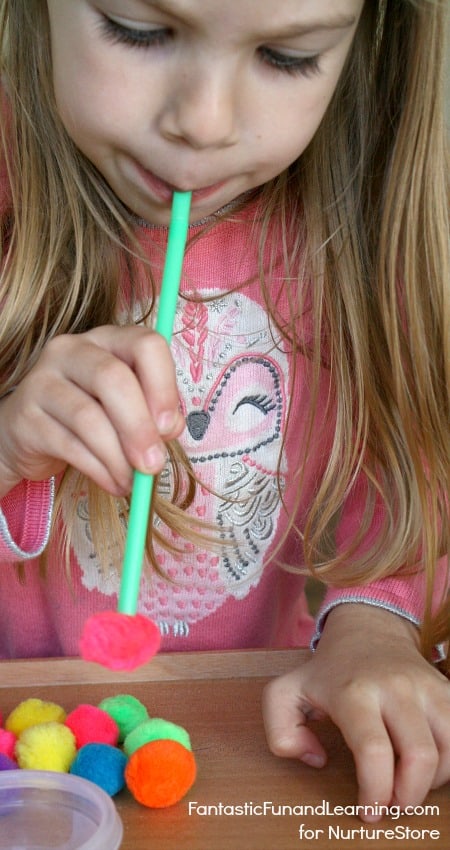 and have it ready to play  a "pom pom game". This idea I found at the Nurturestore site  where the child sucks air through a straw to pick up a pom pom and then gently blows out to place it in it's container.
Be a Fire Breathing Dragon

Here is dragon breathing craft you can create with the child before hand from onelittleproject.com. I'm going to try this for my own son but for For travel friendly durability, I will wrap the toilet paper roll in a duct tape of his choice in color and have the paper streamers plastic ones, perhaps cut from a disposable plastic table cover I have laying around unused  from last year's birthday party.
When They Have the Wigglies, Engage the Hands
Any kind of object that is squishy and requires a child to press their hands and fingers into, is great at helping them to workout tension. One DIY option is to create a water bead stress ball. I know I've found water beads at the Dollar store and many times clear balloons can be found at any party store.
A more textured version of this a stress ball is this  bubbly stress ball that is filled with hair conditioner and baking soda and covered with vegetable netting. Love that these ingredients everyone has at home! This idea is from yourkidsot.com
Another easy DIY is putting beads into a key ring  and then joining the key rings. This is good for those that need to fiddle the tips of their fingers. This cute Laffodills Learning etsy shop sells them if you don't want the hassle.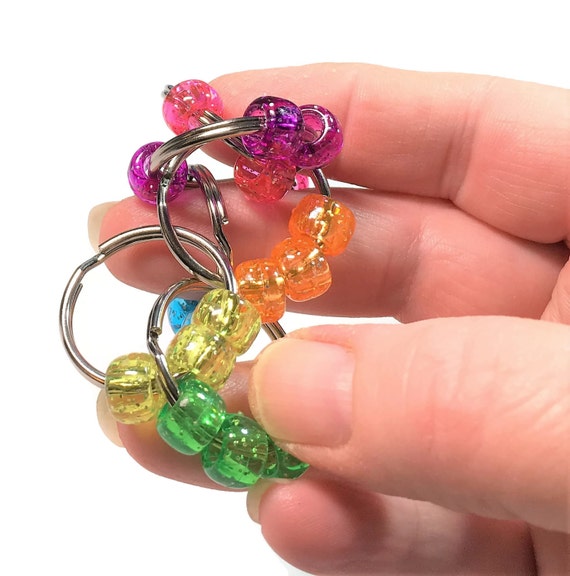 Here are some fun fidgets you can buy online that also work the hand in fun ways .
This is a Tangle Therapy Relax  by Tangle
For those of children that need a snapping sound to relax them, perhaps they enjoy popping the end of a pen, here is a  fidget that makes a snapping sound as the hand bends the fidget called the Snap and Click Fidget.  You can buy these online from Stimtastic or get them at the dollar store. I know I have purchased these before there.
Here is a spikey bracelet that presses points in the hand by Impresa Products. This to me seems like a great way to trick kids into giving themselves pressure point therapy.
When They Need to Be Soothed, Think Soft and Quiet
Warm, Soft and Sweet Smelling in One!
Here are some fun objects that uniquely comfort the senses.  Take for example these microwavable , herb scented stuffed toys from the Intelex company
I can't imagine how amazing it must be to hug something that's warm, soft and smells good. I seriously want the adult version
Block Out the Excess Noise
For that noise sensitive child that is easily started by the noise that get-togethers  naturally make, this Kidco noise blocker  that looks like headphones is great.
Reminders of Loved Ones
Pictures of things and people loved are always excellent ways to comfort. This picture keychain can be attached to the opening zipper of the travel bag or on the handle.
This very inexpensive accordion wallet insert  can hold many wallet sized pictures of the child's' loved ones and be easily tucked into the kit. Another option if the child is already reading, is to create business card sized notes from you personally  appreciating all the great qualities of that child. A self esteem boost like this that's at the child's fingertips can be an effective tool in self soothing when overwhelmed.
Soft key chain pom pom's like this one are fashionable but when it comes to soothing a sensory sensitive child, are highly effective.
Coloring is all the craze right now and for good reason. The hushed swish swish sound of pencil on paper when coloring is incomparable in how it relaxes. Mini coloring books with mini colored pencils like these fit great in a kit. This one is by Peter Pauper Press
Here is another example of a cosmetic bag used for a children's restaurant bag by blueistyleblog.com
Something I haven't mentioned that Angela at the bluestyleblog included in her child's kit was that of snacks. This like everything else is to be customized to the child and parents preferences but is very practical.
All of these ideas are for you to of course, edit according to what you know is appropriate for the child you have in mind. A rambunctious child may not be attracted to a mini coloring book, a baking soda stress ball may not do well for toddler that would bite it, you catch my drift.
Are there other ways you have observed to be helpful for children in encouraging their self care skills?
Drop a comment and share!
If you found this post helpful take a sec to like, share or comment below. As always, thanks for stopping by!